A Connecticut Handbell Ensemble
Streaming Event: Twice As Nice - Again, with Merrimack Valley Ringers
In June of 2018, the Merrimack Valley Ringers and Shoreline Ringers came together to
perform a joint concert entitled "Twice as Nice."
We love playing together and had so much fun that we wanted to share with you
Twice as Nice – Again!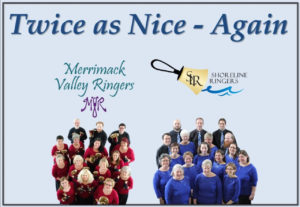 This virtual reprise of our 2018 concert will Premiere on YouTube on
June 5th 2021 at 7:00pm.
Members of both MVR and Shoreline will be here to chat,
reminisce about playing together, and answer your questions!  Check out our STREAM PAGE for details.


Dock to Desert Shoreline Ringers Tour 2021
The wait is over!  Shoreline Ringers are back.  Dunn's Corners Community Church, Presbyterian in Westerly, RI will host the only local public concert of the Shoreline Ringers this season.  Come be a part of a special evening of music and fun.  We are raising money for our trip to Phoenix, AZ, where we will perform the opening concert for the Handbell Musicians of America National Seminar.
Recommended donation is $20 per person when you arrive at this fundraising event.  This June 27 fundraising concert will help the ringers make the 5,000 mile round trip.  Come with your checkbook prepared to have some fun in helping them make their way west.  You will have the opportunity to sponsor our travel through a particular state. If you would like to sponsor a state but can't attend the concert, please email Shoreline at shorelineringers@gmail.com
The ringers will also auction a quartet to come play for your private event/gathering at your home during the holidays or you can send us to perform at a local care facility of your choice.  Shoreline will be the sound and talk of your celebration!
Reservations are REQUIRED.  Please sign up at this link: https://www.signupgenius.com/go/409044bafa92aa1f85-dock
Date: 06/27/2021 (Sun.)
Time: 7:00pm – 9:00pm EDT
Location: Dunn's Corners Community Church, Presbyterian 221 Post Road, Westerly, RI
Shoreline Ringers and COVID-19
Shoreline Ringers has always sold our CDs exclusively at our concerts, but 2020 has brought many new things to all of us (including socially distanced ringing.)
If you were waiting for your chance to purchase a CD at a concert, and missed the opportunity because everything got cancelled, we have good news.  You can now purchase any of our CD's online, even the ones that are not available for digital download.  We have set up an online store through Square.  Buy a CD (or several!) and we will mail them to you anywhere in the USA.  (Sorry, we aren't prepared to ship internationally at this time.)
Shoreline Ringers, Inc. has been amazing audiences with what handbells can do since 2006 when it was founded. The group is composed of 13-16 ringers whose professional backgrounds include computer, social work, teaching, ministry, chemistry, and more!
Shoreline Ringers first began rehearsals in January 2006, and became a 501(c)3 non-profit organization in September 2006.  Since then, Shoreline Ringers has wowed audiences with the magic of handbells through concerts and educational events, even performing at Carnegie Hall and with the US Coast Guard Band at their annual holiday concert.
Meet the members of Shoreline Ringers, Inc., who come to us from all over CT and many different backgrounds to create a fantastically unique ensemble.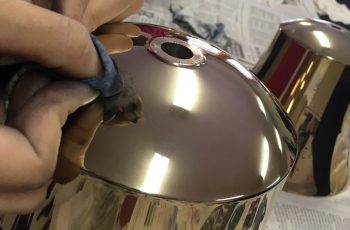 Our mission of performing, educating, and entertaining audiences is safeguarded by our Executive Board who faithfully  support and govern our 501(c)(3) non profit.
What does Shoreline Ringers sound like?
Sign up for seasonal concert reminder emails!
Enter your email address below to and click subscribe to receive an email before each concert season.  You will receive an email asking you to confirm your subscription.
To unsubscribe, enter the email address to unsubscribe and click unsubscribe.
Shoreline Ringers is excited to offer a new educational program that can be used at libraries, assisted living and community centers, etc.  We will present the history of bells, the various techniques used when playing, demonstrate by playing a few songs, and even have hands on audience participation.   To receive a quote, please complete the contact form. As a 501(c)(3) nonprofit and volunteer ensemble, you can be assured that the entire fee will go solely toward advancing professional handbell music
Upcoming Educational Events
Jane works with a 3rd grade classroom.
Our program at the library gave kids and adults a hands-on opportunity.
Hire us for a Special Event
Yes, you can hire the Shoreline Ringers for your private event. You can ask for the full ensemble, or just a quartet, and we will try to work with you to make your event special, whether it's:
community concerts
worship services
festivals
holiday parties
weddings
Small Ensembles for a private party
Full group for large events