Over the years, Shoreline Ringers has recorded several albums. These albums are generally representative of what you would hear in a given concert. Two of our albums are available for digital download. Those and the earlier albums are available in CD format at any of our concerts.
All of our albums are available for sale at our concert events. You can also order a CD that we will ship to you when you purchase through our new online store through Square. This is the same trusted credit card processor you have seen at many small stores and events over recent years, and they have popularized the "contactless" payment systems.   Some albums are available for digital download in mp3 format from Apple music or Amazon.
Christmas Traditions (CD or digital)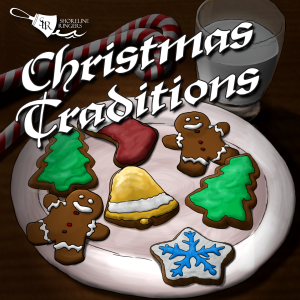 Our newest album of Christmas favorites, plus some new songs that are sure to become your new favorites.  Make Shoreline Ringers part of your new Christmas Traditions, including the world premier recording of A Maritime Christmas.
Track List:
Pat a Pan
Twas in the Moon of Wintertime
A Maritime Christmas
Carol of the Drum
Savior of the Nations
Come All Ye Shepherds
It Came Upon a Midnight Clear
The Angel Gabriel from Heaven Came
Las Campanas de la Navidad
White Christmas
Up on the Housetop
All I Want for Christmas
A Holly Jolly Christmas
Sleigh Ride
A Decade of Bronze (CD only)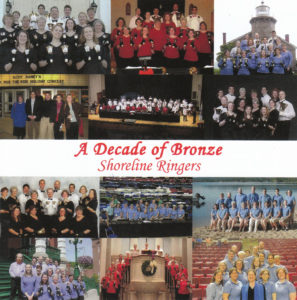 Popular hits from yesterday and today as you've never heard them before: on handbells! This album Celebrates 10 Years of the Shoreline Ringers.  Released in 2016.
Track List:
And All That Jazz
Believe
Dancing Queen
Eleanor Rigby
Fly Me to the Moon
Georgia on My Mind
Good Vibrations
Let It Go
The Prayer
Rolling in the Deep
What a Wonderful World
The Bells of Christmas (CD only)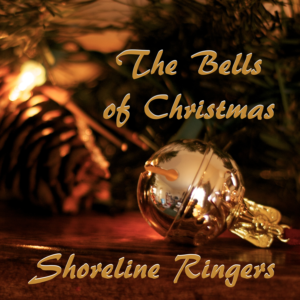 A mix of traditional Christmas carols and original compositions for handbells. Released in 2015.
Track List:
O Come, O Come, Emmanuel
Sing We All Noel
O Little Town of Bethlehem
Las Campanas de la Navidad
Believe (From "The Polar Express")
A Nativity Celebration
Valse Brilliante
March from the Nutcracker
Jolly Old Saint Nicholas
Jingle Bell Samba
Bell Carol Fantasy
Masters in This Hall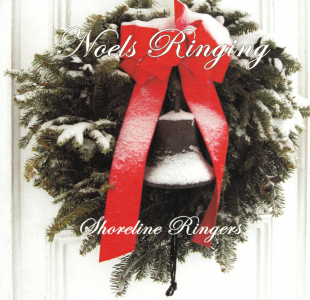 Track List:
God Rest Ye Merry, Gentlemen
O Come, O Come Emmanuel
Fantasia on Greensleeves
Sing We Now of Christmas
Lo, How a Rose E'er Blooming
Noels Ringing, Tidings Bringing
Masters in this Hall
The Angel Gabriel from Heaven Came
O Little Town of Bethlehem
Riu Riu Chiu
Do You Hear What I Hear?
Christmas Toys on Parade
Wizards in Winter
Shoreline in Springtime (CD Only)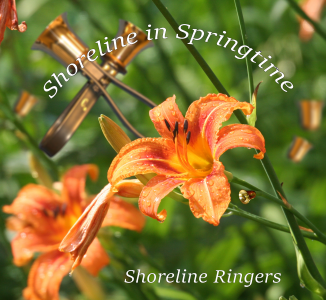 Track List:
 Gaudete
Allegro Glorioso
Sharon's Song
Dance
Ballade
Exultate
Reflections
A New Gloria
A Gift of Grace
Allegro Spiritoso
Unsquare Dance
Roundelay
Wizards in Winter