A Connecticut Handbell Ensemble
Shoreline Ringers Seeking More Members
This season, Shoreline Ringers is extending a warm invitation to skilled ringers who would like to join us. If you're on the lookout for an opportunity to add fun and exciting rehearsals and concerts into your musical experience, we encourage you to get in touch with us. Our rehearsal schedule kicks off in September, and you can also take a look at our lineup of holiday concerts for the season by visiting our events page.
Shoreline Ringers Names Andy Wallace New Music Director
Following a year-long search process and transition, Shoreline Ringers have approved the search committee's recommendation to appoint Andy Wallace as the organization's new Music Director. 
As a ringer and Assistant Director, Andy is no stranger to Shoreline. . . <click for more>
Online CD Sales / Donations
Shoreline Ringers has always sold our CDs exclusively at our concerts, but 2020 brought many new things to all of us (including socially distanced ringing.)
If you can't wait for the next concert to purchase a CD, please feel free to order online!  If you want to donate, you can donate through the Square Online Store OR you can also click the SUPPORT US button in the menu at the top of the page, where you can donate via paypal.

Find our latest album, Christmas Traditions on
Shoreline Ringers, Inc. has been amazing audiences with what handbells can do since 2006 when it was founded. The group is composed of 13-16 ringers whose professional backgrounds include computer, social work, teaching, ministry, chemistry, and more!
Shoreline Ringers first began rehearsals in January 2006, and became a 501(c)3 non-profit organization in September 2006.  Since then, Shoreline Ringers has wowed audiences with the magic of handbells through concerts and educational events, even performing at Carnegie Hall and with the US Coast Guard Band at their annual holiday concert.
Meet the members of Shoreline Ringers, Inc., who come to us from all over CT and many different backgrounds to create a fantastically unique ensemble.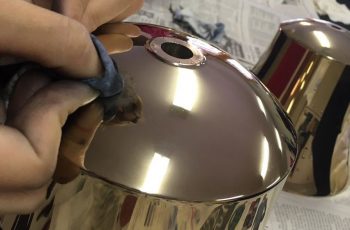 Our mission of performing, educating, and entertaining audiences is safeguarded by our Executive Board who faithfully  support and govern our 501(c)(3) non profit.
"The Swing into Spring concert was great. The muscianship of the Shoreline Ringers is superb!"

-Laine Heltebridle
What does Shoreline Ringers sound like?
Sign up for seasonal concert reminder emails!
Enter your email address below to and click subscribe to receive an email before each concert season.  You will receive an email asking you to confirm your subscription.
To unsubscribe, enter the email address to unsubscribe and click unsubscribe.
Shoreline Ringers is excited to offer a new educational program that can be used at libraries, assisted living and community centers, etc.  We will present the history of bells, the various techniques used when playing, demonstrate by playing a few songs, and even have hands on audience participation.   To receive a quote, please complete the contact form. As a 501(c)(3) nonprofit and volunteer ensemble, you can be assured that the entire fee will go solely toward advancing professional handbell music
Upcoming Educational Events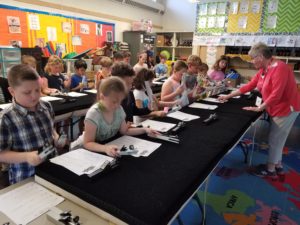 Jane works with a 3rd grade classroom.
Our program at the library gave kids and adults a hands-on opportunity.
After receiving a few requests to book the Shoreline Ringers here at Essex Meadows I contacted them. Setting up a date and time for a concert was an easy process since we booked it months in advance. The group was so organized and professional making them an absolute pleasure to work with. The concert itself was above and beyond everything I was expecting and the residents gave a standing ovation, something almost unheard of here at the Meadows!
The Shoreline Ringers were a huge success here and I highly recommend them above all others. A great show, a great group of people, and a great time. We can't wait to invite them back again!

-Stacie Tanguay
Essex Meadows Community Life Services
Hire us for a Special Event
Yes, you can hire the Shoreline Ringers for your private event. You can ask for the full ensemble, or just a quartet, and we will try to work with you to make your event special, whether it's:
community concerts
worship services
festivals
holiday parties
weddings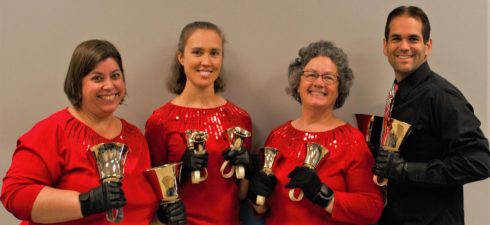 Small Ensembles for a private party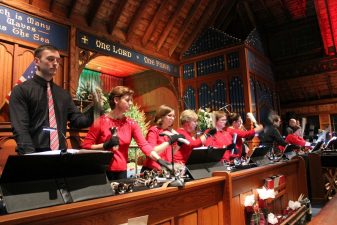 Full group for large events